ショック!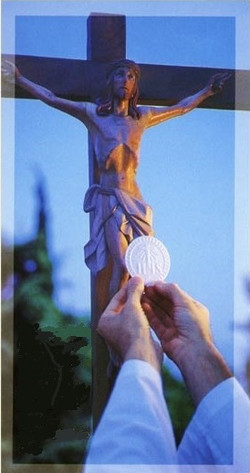 Fr.Zのブログで見た記事です。驚きですね。若者だと80%だそうです。そして今は確かに社会正義ばかりが重視されています。
"Bishop Barron has a video reacting to the Pew Research saying that 75% of Catholics think the Blessed Sacrament is just a symbol. He talks about the failure of catechetics and educators and that social justice was made more important than sound teaching.
・・・・・・・
Bp. Barron underscores that this has been a massive failure on the part of educators, catechists, evangelists and teachers".
 Barron司教様のビデオに対してFr.Zは言っています。
"Well, yes, but mostly… NO!
Yes, catechesis is important, but more important still is our liturgical worship, for decades hardly "sacred" liturgical worship.
Lack of belief in the Eucharist is mostly a massive failure in the way we celebrate the Eucharist! I mean, of course, Holy Mass.
Everything flows from worship and then back to worship. ・・・・・・・
Not a word – in that video – about liturgy as either a cause of the problems we face or as a solution. I listened to it twice and didn't hear it. He talks about the danger of placing social justice, etc., before doctrine. But, he doesn't talk about liturgy.
・・・・・・ He wants a "call to action"? Here's a call to action!".
そしてFr.Zは以下のように行動するべきだと話しています。
"STOP COMMUNION IN THE HAND!
Foster kneeling for Communion put in Communion rails.
Get serious about music.
Phase out unnecessary lay ministers of Communion.
Clear the sanctuary of everything that distracts.
Celebrate ad orientem. (エルサレムの方へ向いて)
And the scariest of all … implement generously Summorum Pontificum!".